The House of Emigrants in Gothenburg – Closed march 2021
The House of the Emigrants in Gothenburg is a migration centre for research and meetings between people. It's an independent forum for everyone, regardless of sex, nationality and religion.
The aim of the activity is to contribute to increased knowledge about migration, understanding and tolerance between different groups and nations.
The premises are, as it should be, located in the Customs House down by the harbour. This is where all the emigrants were shipped out during the great emigration period from 1850 to 1930. Every emigrant had to first pass the Customs House to show their emigrant contract.  The Customs House was built on the "French lot" in 1866 and the house got its name from the custom that was located here for many years.
It was through this house that more than 1 million emigrants had to pass and get their emigrant contracts issued before they could begin their journey towards the new country. The Customs House was renovated in 1927 and two more stories were built, where we are located nowadays.
The history
The word "migration" means transportations of people within or between different countries and the concept consequently holds both moving from and moving to a country.
Every immigrant is always to be regarded as an emigrant as well depending on which aspect is used. When the Swedish author Wilhelm Moberg wrote his well-known novels about Karl Oskar and Kristina, he titled the books "The Emigrants", "The Immigrants", "The Settlers" and "The last letter to Sweden", but he is always writing about the same people.
To learn more about the Swedish emigrants/immigrants, click on the link:
Swedish Immigration to the U.S./Minnesota Historical Society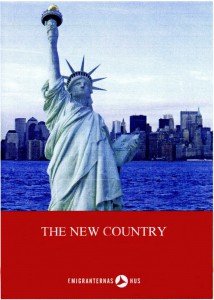 To learn more about the Swedish emigrants/immigrants, click on the links below:
The new country1
The new country2
The new country3
The new country4
To read our swedish pages you may use Google translate: Google translate just copy the text and paste it into the programme.
Genealogy
Please mail to: family@emigranternashus.se for information.
Contact us
Stiftelsen Emigranternas Hus i Göteborg
Packhusplatsen 7
SE-411 13 GÖTEBORG
SWEDEN
Telephone: +46 31 130051
info@emigranternashus.se